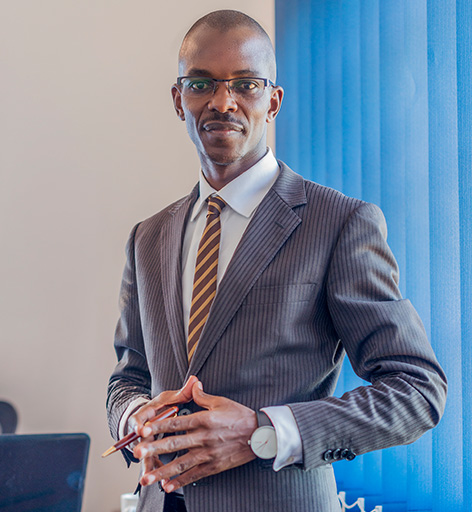 This is my HOW
For my 9th birthday, my dad bought me a "magic" bicycle with no handbrakes. One had to cycle it anti-clockwise for it to brake. I went to the playing field with the bicycle and everyone wanted a turn to ride. But people would end up falling as they were not used to its braking system. One day my cousin advised me that if many people are falling off the bike, it was bound to get spoilt and I would struggle to repair it if I did not have money.
There and then, a money idea was born.
The next day I charged 200 shillings per lap at the pitch. On average I collected 5000 shillings every day. I made so much money as a 9-year old in those days that going to school felt somewhat nonsensical.

This was my first HOW moment, and oh boy, it felt good.

But the bike business died a natural death the following year when I was carted off to boarding school. Trust me, I protested vehemently, pointing my parents to all that money that I would lose at the playing field while in boarding school. It appears my rant was effective.
Upon return from boarding school, my father suggested that working at his hardware shop was the most lucrative way to make up for my losses from the bike business. Dad showed me his "big" prices, "adult" books of account, and my "large" commission. I was bamboozled by all the figures, and so I reluctantly gave in. At the shop I was no longer making money, you know – my own money, but it's where I grew in confidence and honed my negotiation and sales skills. Most importantly, it is where I learnt about conflict resolution by observing Dad's technique of dealing with unhappy customers. By the time I was 16, in my Senior IV vacation, I could run the entire hardware shop single-handedly every time Dad had other things to do.
Capitalizing on my confidence and desire to succeed, Dad would frequently send me nearly 40 miles into Kampala City with a lot of cash to pay suppliers and make hardware purchases in really "tough" joints like Shauriyako Market, William Street, Nakasero Market and Industrial Area. When I was admitted to Makerere University in 2003 as a resident of Lumumba Hall, I immediately realized that the "faculty allowance" or stipend given to government-sponsored students could not give me the life I wanted on campus. Like the fire of a raging dragon, the Entrepreneur in me was re-awakened.
Trading in the gray market
In the second year of my university tour, I started up a string of income-generating ventures, all of them ensconced in my little room at Lumumba Hall:
I would lend my hard-earned commission from Dad's hardware shop to fellow students in Lumumba Hall and beyond;
I opened up the first PlayStation games centre at the University;
I dipped one toe in the gray market of buying rooms in Makerere's 8 halls of residence from government-sponsored undergrads who did not want to stay in the hall and re-selling them to others who cherished the experience of on-campus accommodation;
I dipped the other toe in the gray market for buying and re-selling meal cards of students who could afford to forego on-campus meals;
I owned a computer and other accessories which I used to offer printing, scanning, photocopying, typing, Internet/email and other secretarial services, in addition to selling many digital devices;
I had a complete music and public address system for hire for birthday and graduation parties and other ceremonies; and
I opened up a property and merchandise company with a friend and we would connect buyers to sellers of all items needed by a "campuser": electronics, furniture, rare books, clothes, etc.
Again I made so much money as an undergrad: an average of 2 million shillings per month. In the result, I attended lectures for my Statistics degree only to safeguard my business territory (Campus), and not for any other reason.
Upon graduation in 2007 I grew the money lending business styled as "PIAT MONEY" and subsequently acquired my money lending license in 2009.
I brought my dad and uncle on board as partners. The fortune grew to hundreds of millions. However, by early 2011, I had lost almost everything. I tried many debt recovery methods: from arbitration with borrowers to civil and criminal suits, but all were in vain.
Time to cut and run?
I gathered the little capital I had left, borrowed more money from 2 banks, and went back to campus: not at Makerere this time, but the University of London to study a master's degree in Information Security. During my post-grad studies I did many jobs to make ends meet: attending to warehouses, cleaning at an international school, waiting tables in a 5-star hotel, etc.
In the end, I garnered valuable experience and global contacts along the way. In 2012, after graduating with distinction from the University of London, I applied to the 10th largest company on the London Stock Exchange and passed their online prometric, phone interview and the Oral interviews at the assessment Centre . But because the rules for employing foreigners had been tightened by the Conservative Party, the company failed to secure for me a working permit in the U.K.
Crestfallen, I returned to Uganda in 2013 with a heavy debt burden. My lawyers told me that I was the "most-wanted-man" by the banks from which I had borrowed to finance my tour of the University of London.
A fresh start
Opportunity coincided with preparation and I got a job in October 2013 with Enterprise Uganda, on a UK-funded project, as the information systems specialist. Enterprise Uganda then enrolled me on EMPTRETEC, a prestigious Entrepreneurship program run by the United Nations Conference on Trade and Development (UNCTAD) from Harvard Business School.
I excelled at the course and subsequently became a national trainer which opened up even more opportunities, including the job of Entrepreneurship Trainer on a Norwegian funded project Enterprise Uganda.
I traversed the entire Northern and Eastern regions of Uganda teaching financial literacy, entrepreneurship, savings, investments and customer care. By 2015, I had paid off all my debts and I was a visiting lecturer at Makerere University School of Computing and Informatics Technology where I taught Entrepreneurship to undergraduate students and Data Encryption to postgraduate students.
With 2 well-paying jobs, working 16 hours a day, I was "young, ready and hungry," to paraphrase Les Brown, the renowned American motivational speaker.
I was buying and re-selling cars online. I was even lending money again.
In 2016, I managed to negotiate a multimillion shillings employment contract for 4-and-a-half years with Chemonics, INC as a private sector partnerships manager on a USAID funded project. In this capacity, I traversed the Western region of Uganda training youthful farmers on entrepreneurship and how to grow their farms as a business.
Having regained my financial muscle, I listened to the inner voice that was constantly calling me to share my passion about HOW to bring financial freedom to all the people in the world.
This is why I resigned my "mega" job with a USAID contractor last year, and founded House OF Wealth (HOW) – an exciting company that shows people HOW to make, grow and keep money through motivational talks, business advisory, business trainings, and wealth management.
Tell me about your HOW?